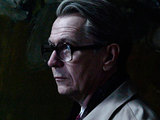 Tinker, Tailor, Soldier, Spy has held on to its place at the top of the weekend UK box office.
Tomas Alfredson's spy thriller, which stars Gary Oldman, Colin Firth, John Hurt and Kathy Burke, comfortably beat the competition from Crazy, Stupid Love, which comes straight in at number two.
Warrior enters the chart at number three, while Ryan Gosling's new thriller Drive rounds out the top five.
The final new entry in this week's chart was Killer Elite, starring Jason Statham, Robert De Niro and Clive Owen.
The Inbetweeners drops from second place to fourth, while fellow comedy Friends With Benefits falls from third to sixth.
The UK Box office top ten in full:
1. (1) Tinker, Tailor, Soldier, Spy – £2,104,762
2. (-) Crazy, Stupid, Love – £860,112
3. (-) Warrior – £808,410
4. (2) The Inbetweeners – £754,226
5. (-) Drive – £754,226
6. (3) Friends With Benefits – £580,641
7. (-) Killer Elite – £481,143
8. (4) Jane Eyre – £445,455
9. (6) The Smurfs – £410,817
10. (5) The Change-Up – £378,226