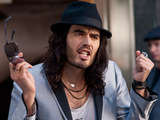 Get Him To The Greek has topped the UK box office on its first weekend on release.
The comedy, which stars Russell Brand and Jonah Hill, takes in £1.5 million to claim the top spot ahead of Katherine Heigl's Killers. The action-comedy's box office takings plummet drastically on its second week in cinemas – £390,000 against last week's £1 million opening haul.
Sex And The City 2, Prince Of Persia and StreetDance complete the top five, while horror movie The Collector is the only other new entry, landing at number seven.
Woody Allen's Whatever Works, rom-com When In Rome and Francis Ford Coppola's latest Tetro all opened last weekend but failed to make a dent in the top ten.
The UK box office top ten in full:
1. (-) Get Him To The Greek – £1,569,556
2. (1) Killers – £389,509
3. (2) Sex And The City 2 – £357,066
4. (4) Prince Of Persia: The Sands Of Time – £159,684
5. (3) StreetDance 3D – £159,260
6. (6) Death At A Funeral – £118,648
7. (-) The Collector – £109,519
8. (5) Letters To Juliet – £104,134
9. (9) Robin Hood – £89,457
10. (7) Wild Target – £88,287