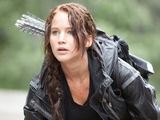 Jennifer Lawrence's teen action movie The Hunger Games has topped the UK box office.
The movie, which co-stars Josh Hutcherson and Liam Hemsworth, broke records in the US over the weekend with a $155 million haul.
The Hunger Games's UK opening gross, £4.9 million, easily outpaces the £2.5 million earned by Twilight in 2008. However, the fledgling franchise falls short of matching its three sequels New Moon, Eclipse and Breaking Dawn – Part 1, which all surpassed £10 million on their opening weekends.
Comedy 21 Jump Street and The Best Exotic Marigold Hotel hold steady at numbers two and three respectively, while last week's chart-topper The Devil Inside tumbles to number four.
We Bought a Zoo rounds out the top five.
Elsewhere, the only other new release to dent the top ten is Act of Valour. The US-produced war movie, which features active Marines among its cast, lands at number eight with £214,401.
The UK box office top ten figures in full:
1. (-) The Hunger Games – £4,900,177
2. (2) 21 Jump Street – £1,184,044
3. (3) The Best Exotic Marigold Hotel – £747,122
4. (1) The Devil Inside – £643,036
5. (5) We Bought a Zoo – £408,821
6. (6) Contraband – £315,666
7. (4) John Carter – £297,762
8. (-) Act of Valour – £262,935
9. (7) The Woman in Black – £214,401
10. (9) The Muppets – £168,381
Source: Rentrak