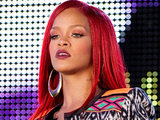 Rihanna has revealed that she is "grateful" to have recorded her hit record 'Umbrella'.
The singer, whose song topped the UK chart for ten weeks, admitted that the song helped boost her music career, as well as landing her a huge endorsement deal.
"I did have a deal with an umbrella company and they had a range of very good umbrellas,"she told Q magazine.
"This is kind of weird because I grew up in Barbados and there's not a great culture of umbrellas like there is in the UK and Europe. I guess we have the occasional storm or maybe the Caribbean is more known for its hurricanes and an umbrella isn't going to get you very far in a situation like that.