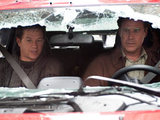 The Other Guys has spent its second weekend at the top of the UK box office.
The Will Ferrell comedy narrowly beats Eat Pray Love to the chart summit, taking in £1.2 million against the Julia Roberts vehicle's £1.1 million opening haul.
The Ben Affleck-directed heist drama The Town debuts in fourth place ahead of Joe Dante's kid's horror The Hole. Rounding out the top five is Devil, which drops three places from last week's runners-up spot.
Elsewhere, the latest Resident Evil experiences a sharp fall as it drops five places to number eight.
The UK box office top ten in full:
1. (1) The Other Guys – £1,292,144
2. (-) Eat Pray Love – £1,165,234
3. (-) The Town – £1,005,039
4. (-) The Hole – £906,722
5. (2) Devil – £528,908
6. (4) Toy Story 3 – £472,449
7. (5) Grown Ups – £384,119
8. (3) Resident Evil: Afterlife – £367,675
9. (6) Tamara Drewe – £245,643
10. (8) Marmaduke – £244,285