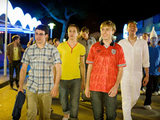 The Inbetweeners Movie has topped the UK box office for the fourth consecutive weekend.
Simon Bird, James Buckley, Joe Thomas and Blake Harrison's big-screen spinoff of their E4 sitcom holds off competition from new releases Friends with Benefits, starring Justin Timberlake and Mila Kunis, and Jane Eyre.
The Smurfs retains the number four spot, while Rise of the Planet of the Apes slides three places to five.
Zoe Saldana's action movie Colombiana enters at number seven on its debut weekend on release.
Elsewhere, Harry Potter and the Deathly Hallows – Part 2 is still in the top ten, two months after its theatrical debut. The Potter finale has grossed £72 million in total in the UK.
The UK box office top ten in full:
1. (-) The Inbetweeners Movie – £2,147,393
2. (-) Friends with Benefits – £1,947,272
3. (-) Jane Eyre – £1,012,111
4. (4) The Smurfs – £817,306
5. (2) Rise of the Planet of the Apes – £701,258
6. (3) One Day – £634,807
7. (-) Colombiana – £424,049
8. (6) Final Destination 5 – £396,687
9. (7) Fright Night – £278,342
10. (9) Harry Potter and the Deathly Hallows – Part 2 – £259,540