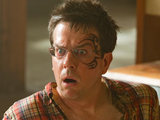 The Hangover Part II has topped the UK box office with a £10 million opening.
The comedy sequel, which sees Bradley Cooper, Zach Galifianakis and Ed Helms's characters head to Bangkok, welcomed impressive ticket sales thanks to a Thursday release and screenings on Bank Holiday Monday.
The Hangover Part II's £10 million total is the second highest debut of 2011, behind Pirates of the Caribbean: On Stranger Tides, and easily outpaces the £3.1 million opening for The Hangover in 2009.
Last week's number one movie On Stranger Tides falls to second spot, Diary of a Wimpy Kid 2 is a new entry at three, Thor slips to number four and Fast & Furious 5 rounds out the top five.
Elsewhere, the extended Bank Holiday break proved fruitful for 3D family animation Rio, which climbs a place to number six.
The UK box office top ten in full:
1. (-) The Hangover Part II – £10,409,017
2. (1) Pirates of the Caribbean: On Stranger Tides – £4,757,411
3. (-) Diary of a Wimpy Kid 2: Rodrick Rules – £1,476,720
4. (3) Thor – £335,103
5. (2) Fast & Furious 5 – £322,506
6. (7) Rio – £300,865
7. (4) Insidious – £208,313
8. (6) Hanna – £148,339
9. (5) Attack the Block – £142,919
10. (8) Water for Elephants – £129,143