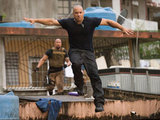 Fast & Furious 5 has debuted at the top of the UK box office.
The latest movie in the long-running action franchise, which sees Dwayne Johnson join returning cast members Vin Diesel and Paul Walker, pulls in an impressive £5.3 million to cruise past 3D animation Rio and secure first place.
Boosted by a Thursday opening and Good Friday showings, Fast & Furious 5 registers the third highest box office opening of 2011 behind Gulliver's Travels (£7 million) and Paul (£5.5 million).
Russell Brand's remake of Arthur, last week's number one Scream 4 and the Vanessa Hudgens-led Beastly complete the top five.
Elsewhere, new release TT3D: Closer to the Edge, a racing documentary about the Isle of Man Tourist Trophy, bows at number nine.
The UK box office top ten in full:
1. (-) Fast & Furious 5 – £5,332,096
2. (2) Rio – £886,669
3. (-) Arthur – £764,468
4. (1) Scream 4 – £730,963
5. (-) Beastly – £553,069
6. (5) Hop – £466,676
7. (4) Red Riding Hood – £345,421
8. (6) Source Code – £331,988
9. (-) TT3D: Closer to the Edge – £312,998
10. (7) Limitless – £282,879