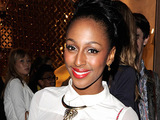 Alexandra Burke has confirmed that the release of the lead single from her second album has been delayed.
The 'Start Without You' singer has been working on the follow-up to her number one debut album Overcome since last November. The first track to be lifted from the collection was expected to premiere on radio this week.
"To all my supporters out there.. Firstly again. Thank you for you patience, (sic)" Burke wrote on in a new blog post, confirming that her record label had decided to push the date back.
"I am so so sorry for telling you guys that a single would be serviced to radio this week, that was the plan but we've decided to take a tiny bit more time as some exciting things have come up that we are looking at and RCA want to make sure everything is perfect. So please bare with us."
Burke added: "I promise you all it will be worth the wait. When I get a date that is confirmed for the single to be serviced to radio I will inform you all once I know it is CONFIRMED!!"
Burke, who will perform at the 'Michael Forever Tribute Concert' on October 8 at Cardiff's Millennium Stadium, previously denied claims that her forthcoming album will be delayed until 2012.