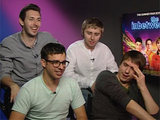 The Inbetweeners Movie has spent its third weekend at the top of the UK box office.
The sitcom spinoff, starring Simon Bird, Joe Thomas, James Buckley and Blake Harrison, takes in £3.6 million to easily hold off competition from Rise of the Planet of the Apes and One Day.
The Inbetweeners Movie has now grossed more than £34 million from UK cinemas, but co-creator Iain Morris has maintained that the comedy is unlikely to get a sequel.
The Smurfs holds its place at number four, while Salman Khan's Bollywood release Bodyguard opens strongly to land at five.
Elsewhere, new movies Fright Night and Apollo 18 make disappointing debuts, landing at numbers seven and eight respectively.
The UK box office top ten in full:
1. (1) The Inbetweeners Movie – £3,679,555
2. (3) Rise of the Planet of the Apes – £1,083,091
3. (2) One Day – £1,048,343
4. (4) The Smurfs – £1,043,353
5. (-) Bodyguard – £839,695
6. (5) Final Destination 5 – £815,216
7. (-) Fright Night – £680,543
8. (-) Apollo 18 – £490,746
9. (7) Harry Potter and the Deathly Hallows: Part 2 – £454,862
10. (6) Cowboys & Aliens – £401,751