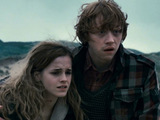 Harry Potter And The Deathly Hallows: Part 1 has topped the UK box office for the second consecutive weekend.
Despite five significant new releases, the first instalment in the wizard saga's finale pulls in £8.3 million to easily see off the competition. Deathly Hallows has now grossed more than £33 million in the UK, putting it in fifth spot ahead of Shrek Forever After in the top grossing films of 2010.
Denzel Washington action movie Unstoppable trails behind Potter in second place with £1.7 million this week, while Colin Farrell's London Boulevard charts at number three. Due Date and The American round out the top five.
Elsewhere, The Girl Who Kicked The Hornets' Nest and Machete land in the top ten at numbers seven and ten respectively.
The UK box office top ten in full:
1. (1) Harry Potter And The Deathly Hallows: Part 1 – £8,344,776
2. (-) Unstoppable – £1,714,871
3. (-) London Boulevard – £577,224
4. (2) Due Date – £560,179
5. (-) The American – £411,707
6. (3) Despicable Me – £241,944
7. (-) The Girl Who Kicked The Hornets' Nest – £219,259
8. (5) Jackass 3D – £119,369
9. (4) Skyline – £92,931
10. (-) Machete – £90,423