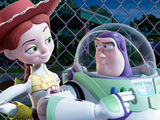 Toy Story 3 has smashed UK box office records with a £21 million opening.
The latest movie from Pixar breaks the record for the biggest debut haul of 2010 and is the second largest UK opening of all-time behind Harry Potter And The Prisoner Of Azkaban. It is also the biggest July opening to date.
"These characters are like family and so we could not be more proud of the response to Toy Story 3 this weekend," said producer Darla K. Anderson. "We are thrilled that fans – old and new – continue to embrace and love these characters as much as we do."
Toy Story 3 is one of four new entries in this week's chart ahead of Catherine Zeta-Jones rom-com The Rebound, Bollywood movie Khatta Meetha and horror Splice.
The UK box office top ten in full:
1. (-) Toy Story 3 – £21,187,264
2. (1) Inception – £4,172, 568
3. (3) The Twilight Saga: Eclipse – £1,436,792
4. (2) Shrek Forever After – £1,223,759
5. (-) The Rebound – £360,015
6. (4) Predators – £305,424
7. (-) Khatta Meetha – £124,104
8. (5) Get Him To The Greek – £119,424
9. (-) Splice – £110,225
10. (10) Leaving – £39,409