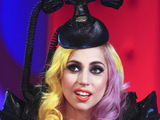 Lady GaGa has declared that she would never be caught wearing casual clothes.
The 'Telephone' singer revealed that she is left unimpressed by stars who wear extravagant costumes on stage but choose to dress down in day-to-day life.
"I think you should look nice all the time," she told OK. "When I meet celebrities and they're in casual clothes, I'm always like, 'Whaaat?' I don't mean to be judgmental, but it would do them better to be who they really are, all the time.
"This is really who I am all the time. When I get out of a car and there are 30 fans waiting for me, I know I'm dressed the way I should be. There's a reason they have that emotional reaction."