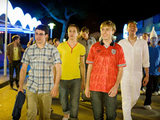 The Inbetweeners Movie has shattered records at the UK box office on its first full week of release.
The sitcom spinoff, starring Simon Bird, Joe Thomas, James Buckley and Blake Harrison, remains at the chart summit and has recorded the biggest live-action comedy opening ever in the UK with £20 million.
The total surpasses the £17 million earned by The Hangover Part II earlier this year and puts The Inbetweeners Movie's total at £27.7 million.
Anne Hathaway and Jim Sturgess's romantic drama One Day debuts in second place with £2.2 million, while Rise of the Planet of Apes charts at number three and The Smurfs holds its spot at number four.
Elsewhere, new releases Final Destination 5 and Conan the Barbarian make the top ten, bowing at number five and number eight respectively.
The UK weekend box office top ten in full:
1. (1) The Inbetweeners Movie – £5,696,848
2. (-) One Day – £2,208,724
3. (2) Rise of the Planet of the Apes – £1,659,572
4. (4) The Smurfs – £1,478,650
5. (-) Final Destination 5 – £1,450,464
6. (3) Cowboys & Aliens – £792,898
7. (5) Harry Potter and the Deathly Hallows: Part 2 – £765,191
8. (-) Conan the Barbarian – £622,268
9. (6) Spy Kids: All the Time in the World – £607,051
10. (8) Mr Popper's Penguins – £408,985