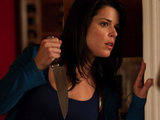 Scream 4 has topped the UK box office on its debut weekend on release.
The horror sequel, which reunites series stars Neve Campbell, Courteney Cox and David Arquette, has failed to make a significant box office dent in the US and Australia but its £2 million haul is enough to see it secure first place in the UK.
Half of the chart top ten is made up of new releases, with Your Highness and Red Riding Hood landing at numbers three and four just behind Rio. Russell Brand's Hop completes the top five.
Elsewhere, Disney's new Winnie The Pooh animation bows at number eight and the Marion Cotillard-led French film Little White Lies charts at ten.
The UK box office top ten in full:
1. (-) Scream 4 – £2,061,885
2. (1) Rio – £1,695,927
3. (-) Your Highness – £926,338
4. (-) Red Riding Hood – £842,398
5. (4) Hop – £788,809
6. (2) Source Code – £674,202
7. (3) Limitless – £603,963
8. (-) Winnie The Pooh – £159,369
9. (5) Sucker Punch – £144,612
10. (-) Little White Lies – £125,273