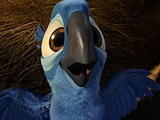 Rio has taken first place at the UK box office on its debut weekend on release.
The 3D animated movie, which features the voices of Jesse Eisenberg and Anne Hathaway, pulls in £1.5 million to secure top spot ahead of sci-fi thriller Source Code.
Limitless holds its place at number three, Hop dips down to four and action movie Sucker Punch is at five.
The chart also sees three new releases enter the top ten. Bollywood movie Thank You bows at number seven, Leighton Meester and Minka Kelly's The Roommate lands at nine and Disney animation Mars Needs Mums is at ten.
The UK box office top ten in full:
1. (-) Rio – £1,515,853
2. (2) Source Code – £848,366
3. (3) Limitless – £737,417
4. (1) Hop – £611,367
5. (4) Sucker Punch – £346,399
6. (5) The Eagle – £181,823
7. (-) Thank You – £160,191
8. (8) Unknown – £135,025
9. (-) The Roommate – £120,365
10. (-) Mars Needs Mums – £113,559