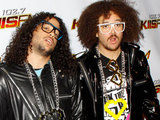 LMFAO, Lauren Bennet and Goonrock have won a close sales battle with Wretch 32 to keep 'Party Rock Anthem' at number one on the UK singles chart.
The club track stuck to pole position for a second Sunday, after recovering from a close chart update, to outperform 'Unorthodox' by a comfortable 30% margin at the end of the week.
Following the return of Britain's Got Talent last Saturday, Tracy Chapman's 1988 classic 'Fast Car' makes an unexpected return to the rankings as buzz around contestant Michael Collings's show-stopping rendition of the track continues to grow.
Just behind, Chris Brown and Benny Benassi sneak into the top five with 'Beautiful People', up three from eight, while Katy Perry and 'E.T.' crash-land at seven after peaking at three last week. Nearby, Lady GaGa climbs to nine with 'Judas' after originally debuting at 14 just 48 hours after its rush-release last Friday.
The top ten in full:
1. (1) LMFAO ft. Lauren Bennett & Goonrock: 'Party Rock Anthem'
2. (-) Wretch 32 ft. Example: 'Unorthodox'
3. (2) Jennifer Lopez ft. Pitbull: 'On The Floor'
4. (-) Tracy Chapman: 'Fast Car'
5. (8) Chris Brown ft. Benny Benassi: 'Beautiful People'
6. (4) Snoop Dogg vs David Guetta: 'Sweat'
7. (3) Katy Perry ft. Kanye West: 'E.T.'
8. (5) The Black Eyed Peas: 'Just Can't Get Enough'
9. (14) Lady GaGa: 'Judas'
10. (9) Mann ft. 50 Cent: 'Buzzin'
Source: Official Charts Company

Further down the numbers, Rihanna's 'S&M' falls four to 11 after a brief top ten vacation prompted by a "sexy" new Britney Spears remix, while Adele's 'Someone Like You' drops into the double digits for the first time, finishing at 12 from last week's six.
Looking to the depths of the top 20, Nicole Scherzinger's 'Don't Hold Your Breath' and Wiz Kalifa's 'Black And Yellow' fall six apiece to 16 and 17, becoming sandwiched between new entries 'The Lazy Song' by Bruno Mars at 15 and 'Run The World (Girls)' by Beyonce at 18.