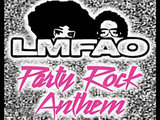 LMFAO, Lauren Bennet and Goonrock have climbed to the top of the UK singles chart with 'Party Rock Anthem'.
The trio's dancefloor favourite, which debuted at 22 on the rankings three Sundays ago, pushed Jennifer Lopez's comeback track 'On The Floor' into the runner-up spot after a two-week reign at number one.
The next two places see Katy Perry and Snoop Dogg inch forward a respective two and five spots with 'E.T.' and 'Sweat', while Adele's former chart-topper 'Someone Like You' misses out on the top five for the first time after falling three to six.
Meanwhile, buzz over Rihanna's "sexy" new 'S&M' team-up with Britney Spears propels the original track back into the top 10 at seven, next to Chris Brown and Benny Benassi's 'Beautiful People', which glides to eight from last week's 20.
The interactive video top 10 in full:
1. (2) LMFAO ft. Lauren Bennett & Goonrock: 'Party Rock Anthem'
2. (1) Jennifer Lopez ft. Pitbull: 'On The Floor'
3. (5) Katy Perry ft. Kanye West: 'E.T.'
4. (9) Snoop Dogg vs David Guetta: 'Sweat'
5. (4) The Black Eyed Peas: 'Just Can't Get Enough'
6. (3) Adele: 'Someone Like You' (live at the Brit Awards)
7. (12) Rihanna: 'S&M'
8. (20) Chris Brown ft. Benny Benassi: 'Beautiful People'
9. (6) Mann ft. 50 Cent: 'Buzzin'
10. (7) Nicole Scherzinger: 'Don't Hold Your Breath'

In the double digits, Cee Lo Green hitches four places higher with 'Bright Lights, Bigger City', this week's 13, as Lady GaGa's long-awaited new single 'Judas' arrives at 14 despite having only been released little over 48 hours ago.
Finally, Katy B's 'Broken Record' crashes eight places to 19 in its third week of release and 'I Need A Doctor' by Dr Dre, Eminem and Skylar Grey follows suit, plummeting from 13 to 20.