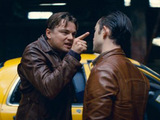 Leonardo DiCaprio's sci-fi thriller Inception has gone straight to the top of the UK box office on its first weekend on release.
The Christopher Nolan-helmed blockbuster takes in £5.9 million to chart ahead of Shrek Forever After (£4.1 million) and Eclipse (£3.3 million).
Predators and Get Him To The Greek complete the top five.
Elsewhere, three French films are in this week's top ten – rom-com Heartbreaker, Kristen Scott Thomas's Leaving and Melanie Laurent's Le Concert.
The UK box office top ten in full:
1. (-) Inception – £5,912,814
2. (2) Shrek Forever After – £4,198,874
3. (1) The Twilight Saga: Eclipse – £3,390,512
4. (3) Predators – £893,439
5. (4) Get Him To The Greek – £440,282
6. (5) Killers – £71,486
7. (7) Heartbreaker – £68,757
8. (6) Sex And The City 2 – £51,777
9. (-) Leaving – £50,241
10. (-) Le Concert – £38,053