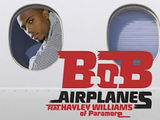 B.o.B has risen from last week's third spot to number one in the UK singles charts with 'Airplanes'.
Yolando Be Cool & D Cup and Eminem & Rihanna also climbed to second and third place, as Katy Perry dropped to number four.
Professor Green and Mark Ronson were new entries at fifth and sixth place respectively. Meanwhile, a major drop in sales saw JLS plummet from the top spot to number seven.
Elsewhere, Eliza Doolittle made her first entry into the top ten at eight, while Enrique Iglesias and 3OH!3 were both down three places.
The top ten singles in full (click where available to see official music video):
1. (3) B.o.B ft. Hayley Williams: 'Airplanes'
2. (5) Yolanda Be Cool & D Cup: 'We No Speak Americano'
3. (4) Eminem & Rihanna: 'I Love The Way You Lie'
4. (2) Katy Perry ft. Snoop Dogg: 'California Gurls'
5. (-) Professor Green ft. Lily Allen: 'Just Be Good To Green'
6. (-) Mark Ronson & The Business Intl: 'Bang Bang Bang'
7. (1) JLS: 'The Club Is Alive'
8. (12) Eliza Doolittle: 'Pack Up'
9. (6) Enrique Iglesias ft. Pitbull: 'I Like It'
10. (7) 30H!3 ft. Ke$ha: 'My First Kiss'
Source: Official Charts Company