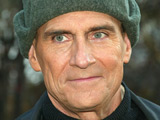 Apple Records has announced plans to reissue its back catalogue of music not recorded by The Beatles.
The venture released recordings from artists signed by The Beatles between 1968 and 1973, and 15 albums will be released on October 26.
All the digitally remastered material will be available via CD and digital download. The Beatles' own recordings still remain unavailable online despite their recent re-release.
The full list of reissued albums is as follows:
James Taylor – James Taylor
Magic Christian Music, No Dice, Straight Up and Ass – Badfinger
Postcard and Earth Song, Ocean Song – Mary Hopkin
That's The Way God Planned It, Encouraging Words – Billy Preston
Doris Troy – Doris Troy
Is This What You Want? – Jackie Lomax
Under The Jasmine Tree and Space (2LPs on 1CD) – Modern Jazz Quartet
The Whale and Celtic Requiem (2LPs on 1CD) – John Tavener