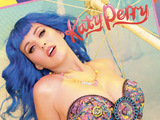 Katy Perry has easily secured a second week at the top of the UK singles chart, after 'California Gurls' outsold its nearest rival by 70%.
Perry beat B.o.B and Hayley Williams's 'Airplanes', which climbs from twelve last week to become this week's second-biggest seller.
Enrique Iglesias notches up the highest new entry on the chart, as well as his seventh UK top ten single, with 'I Like It', which debuts at four.
Climbers in this week's chart include Kylie Minogue's 'All The Lovers', which jumps from six to three and 'Love The Way You Lie' by Eminem and Rihanna, which hops one spot to six, as does Lady GaGa's 'Alejandro', rising from eight to seven.
Kelly Rowland and David Guetta finally crack the top ten in their sixth week on the chart with 'Commander', advancing from 13 to nine.
England's exit from the World Cup last Sunday has clearly had an effect on the music world, with K'Naan's football anthem 'Wavin' Flag' slipping from two to five and former No.1 'Shout' by Shout For England, Dizzee Rascal and James Corden crashing 12 places from three to 15.
Elsewhere outside the top ten, Skepta manages the second highest new entry of the week with 'Rescue Me' at 14, while Alicia Keys's 'Try Sleeping With A Broken Heart' climbs one spot from twenty to nineteen.
The top ten singles in full (click where available to see official music video):
1. (1) Katy Perry ft. Snoop Dogg: 'California Gurls'
2. (12) B.o.B ft. Hayley Williams: 'Airplanes'
3.(6) Kylie Minogue: 'All The Lovers'
4. (-) Enrique Iglesias ft. Pitbull: 'I Like It'
5. (2) K'naan: 'Wavin' Flag'
6.(7) Eminem & Rihanna: 'Love The Way You Lie'
7. (8) Lady GaGa: 'Alejandro'
8. (4) Example: 'Kickstarts'
9 (12) Kelly Rowland ft. David Guetta: 'Commander'
10. (5) Eminem: 'Not Afraid'
Source: Official Charts Company