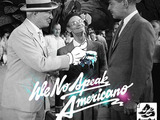 Yolanda Be Cool & D Cup have risen to No.1 on this week's UK singles chart with 'We No Speak Americano'.
The club anthem, which first entered the charts a fortnight ago, jumped from number two last week to take the top spot and end B.o.B's short-lived reign. His song 'Airplanes' slips to three after Eminem & Rihanna climb up to two with 'I Love The Way You Lie'.
Despite his high debut on the album chart, Professor Green drops two spots from five to seven with 'Just Be Good To Green'. The same fate befalls JLS, who are barely holding on inside the top 10 just two weeks after topping the chart, as 'The Club Is Alive' drops from seven to nine.
None of this week's releases managed to make a dent on the top 10, with 'DJ Got Us Falling In Love' by Usher & Pitbull the highest new entry on the chart at 20. They debuted one place behind Jason Derulo's What If which advanced by 21 spots on its second week in the top 40 to become this week's number 19.
The top ten singles in full (click where available to see official music video):
1. (2) Yolanda Be Cool & D Cup: 'We No Speak Americano'
2. (3) Eminem & Rihanna: 'I Love The Way You Lie'
3. (1) B.o.B ft. Hayley Williams: 'Airplanes'
4. (4) Katy Perry ft. Snoop Dogg: 'California Gurls'
5. (8) Eliza Doolittle: 'Pack Up'
6. (6) Mark Ronson & The Business Intl: 'Bang Bang Bang'
7. (5) Professor Green ft. Lily Allen: 'Just Be Good To Green'
8. (9) Enrique Iglesias ft. Pitbull: 'I Like It'
9.(7) JLS: 'The Club Is Alive'
10.(10) 30H!3 ft. Ke$ha: 'My First Kiss'
Source: Official Charts Company