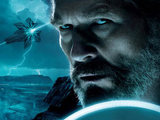 Tron: Legacy has topped the UK box office on its first weekend on release.
The Disney film, a follow-up to Jeff Bridges' 1982 cult favourite, pulled in £1.9 million in box office receipts to end the latest Narnia film's short reign at the top of the chart.
Harry Potter And The Deathly Hallows: Part 1, now entering its second month on release, is in third place. The sequel has so far banked £44 million in the UK. The Tourist and Megamind round out the top five.
Despite the star power of Cher and Christina Aguilera, Burlesque can only manage sixth spot on its opening weekend. The musical charts ahead of two other new releases, Animals United and Fred: The Movie.
Action movie Unstoppable and comedy Due Date complete the top ten.
The UK box office top ten in full:
1. (-) Tron: Legacy – £1,970,692
2. (1) The Chronicles Of Narnia: The Voyage Of The Dawn Treader – £1,231,568
3. (2) Harry Potter And The Deathly Hallows: Part 1 – £875,898
4. (3) The Tourist – £721,397
5. (4) Megamind – £574,205
6. (-) Burlesque – £425,931
7. (-) Animals United – £307,409
8. (-) Fred: The Movie – £257,133
9. (5) Unstoppable – £158,869
10. (6) Due Date – £75,953