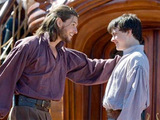 The Chronicles Of Narnia: The Voyage Of The Dawn Treader has ended Harry Potter And The Deathly Hallows: Part 1's three-week stint at the UK box office summit.
The fantasy film, starring Ben Barnes, Liam Neeson and Skandar Keynes, makes £2.4 million on its first weekend on release to nudge Deathly Hallows into second place. Johnny Depp and Angelina Jolie's The Tourist lands at number three, while Megamind and Unstoppable round out the top five.
Elsewhere, Sofia Coppola's latest film Somewhere opens in eighth spot ahead of Bollywood production No Problem.
Narnia and Potter will face further competition for chart supremacy next week when Tron: Legacy and Christina Aguilera's Burlesque roll out in cinemas.
The UK box office top ten in full:
1. (-) The Chronicles Of Narnia: The Voyage Of The Dawn Treader – £2,460,118
2. (1) Harry Potter And The Deathly Hallows: Part 1 – £1,905,368
3. (-) The Tourist – £1,341,143
4. (2) Megamind – £1,205,320
5. (3) Unstoppable – £406,882
6. (4) Due Date – £192,311
7. (5) Monsters – £154,743
8. (-) Somewhere – £125,581
9. (-) No Problem – £114,652
10. (6) The American – £109,084