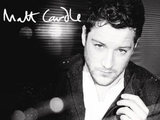 Matt Cardle has stayed at the top of the UK singles chart with his X Factor winner's single 'When We Collide'.
The single has now sold 738,000 copies after selling 300,000 more units in the past week. It was also announced as the second biggest-selling single of the year so far, behind Eminem and Rihanna's duet 'Love the Way You Lie'.
Rihanna also stayed at this week's number two with 'What's My Name?', her duet with rapper Drake. The Black Eyed Peas' former number one 'The Time (Dirty Bit)' climbed back to number three.
Katy B scored her second Top 10 hit with 'Lights On' – featuring Ms. Dynamite – at number four, with Ellie Goulding's 'Your Song' completing the Top 5.
Katy Perry's 'Firework' and Far East Movement's 'Like a G6' both returned to the Top 10, with Rihanna climbing back to number six with 'Only Girl (In the World)'. Take That fell one place to seven with 'The Flood', while Willow Smith stayed at nine with 'Whip My Hair'.
Elsewhere, Tine Tempah's 'Invincible' – featuring Kelly Rowland – climbed 17 places to number 15, while N-Dubz rose 16 spots with 'Girls' at number 19, and Jessie J climbed from number 34 to 22 with 'Do It Like a Dude'.
There were new entries in the Top 40 for Cheryl Cole's 'The Flood' at 26, and Chris De Burgh's duet with brothers Ben and Jamie Hazleby at 36 with an updated version of De Burgh's 'Lonely Sky'.
Meanwhile, The Trashmen's 'Surfin' Bird' fell out of the Top 40 entirely after scoring a number three hit last week.
The top ten in full:
1. (1) Matt Cardle: 'When We Collide'
2. (2) Rihanna ft. Drake: 'What's My Name?'
3. (4) Black Eyed Peas: 'The Time (Dirty Bit)'
4. (-) Katy B ft. Ms. Dynamite: 'Lights On'
5. (5) Ellie Goulding: 'Your Song'
6. (7) Rihanna: 'Only Girl (In the World)
7. (6) Take That: 'The Flood'
8. (12) Katy Perry: 'Firework'
9. (9) Willow: 'Whip My Hair'
10. (11) Far East Movement: 'Like a G6'
Source: Official Charts Company