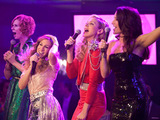 Sex And The City 2 has topped the UK box office for the third consecutive week.
The start of the World Cup dented cinema takings over the weekend, with the Sarah Jessica Parker-led comedy dropping almost £1 million from last week's total. However, the TV spinoff outperforms new release Letters To Juliet to claim the top spot.
Juliet, Amanda Seyfried's third UK release of 2010, falls short of matching the £1.9 million box office opening of April's romantic drama Dear John.
StreetDance 3D falls to number three, Prince Of Persia trails behind at four and cop drama Brooklyn's Finest opens at five.
Elsewhere, Robin Hood and 4.3.2.1 are the biggest fallers, sliding three places apiece to eight and ten respectively.
The UK box office top ten in full:
1. (1) Sex And The City 2 – £1,489,833
2. (-) Letters To Juliet – £793,425
3. (2) StreetDance 3D – £715,317
4. (3) Prince Of Persia: The Sands Of Time – £507,855
5. (-) Brooklyn's Finest – £468,279
6. (4) Death At A Funeral – £414,711
7. (6) Tooth Fairy – £367,396
8. (5) Robin Hood – £362,397
9. (8) She's Out Of My League – £175,920
10. (7) 4.3.2.1 – £132,048