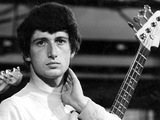 Kinks bassist Pete Quaife has died at the age of 66.
The exact cause of death is as-yet unknown, though Quaife had been undergoing kidney dialysis for over a decade after suffering renal failure in 1998, Rolling Stone reports. He passed away yesterday.
A founding member of the Kinks, Quaife played on all of the group's early records but quit briefly in 1966 and permanently in 1969 after falling out with his bandmates.
He last played with the band in 1990, when they were inducted into the Rock and Roll Hall Of Fame.
In 2008, group leader Ray Davies suggested that he and Quaife might reunite for a new Kinks record, but Quaife reportedly rejected the suggestion.