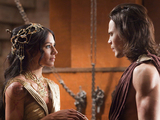 John Carter has topped the UK box office on its debut weekend on release.
The Disney blockbuster, which stars Taylor Kitsch and Lynn Collins, pulls in £1.9 million to send last week's chart-topper The Best Exotic Marigold Hotel into second spot.
Daniel Radcliffe's The Woman In Black falls to number three with £1.13 million, while This Means War and Safe House complete the top five.
The Muppets and comedy Project X both slip a slot from last week to occupy numbers six and seven respectively.
New release The Raven enters at number eight with £299,254 ahead of Robert Pattinson's Bel Ami. The Twilight star's latest film earns £296,341 from its 261 locations as it bows in ninth place.
The Artist, in its 11th week on release, charts at number 11 with £211,427.
The UK box office top 10 in full:
1. (-) John Carter – £1,960,414
2. (1) The Best Exotic Marigold Hotel – £1,787,352
3. (2) The Woman in Black – £1,131,402
4. (3) This Means War – £1,017,075
5. (4) Safe House – £774,745
6. (5) The Muppets – £667,231
7. (6) Project X – £412,883
8. (-) The Raven – £299,254
9. (-) Bel Ami – £296,341
10. (8) The Artist – £211,427
Source: Rentrak