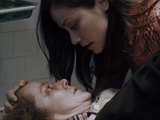 The Devil Inside has topped the UK box office on its debut weekend on release.
The found-footage horror movie netted £1.9 million in ticket sales to hold off competition from new comedy release 21 Jump Street to secure the number one spot.
The Best Exotic Marigold Hotel falls a place to number three, while last week's chart-topper John Carter sees a 51% dip in ticket sales to land at number four.
New release We Bought a Zoo rounds out the top five, while Mark Wahlberg's latest thriller Contraband bows at number six.
Daniel Radcliffe's The Woman in Black slips four places to seven, with a £544,636 haul on its sixth weekend on release. The Hammer production has now grossed an impressive £20 million from its UK theatrical run.
Elsewhere, This Means War is at number eight, ahead of The Muppets and Safe House.
The UK box office top ten figures in full:
1. (-) The Devil Inside – £1,988,461
2. (-) 21 Jump Street – £1,556,039
3. (2) The Best Exotic Marigold Hotel – £1,530,112
4. (1) John Carter – £965,946
5. (-) We Bought a Zoo – £850,651
6. (-) Contraband – £683,654
7. (3) The Woman in Black – £544,636
8. (4) This Means War – £431,648
9. (6) The Muppets – £395,549
10. (5) Safe House – £268,288
Source: Rentrak