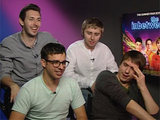 James Buckley has told Digital Spy that he refused to appear naked in The Inbetweeners Movie.
The 24-year-old actor, who plays Jay Cartwright in the teen comedy, admitted that he was reluctant to show his "parts" on the big screen in what Simon Bird confirmed was the "first ever Inbetweeners full-frontal moment".
Buckley said: "I was asked to be naked. There's this scene when Jay's pants fall down. I wasn't up for it, so they got a double for me, and super-imposed his parts on my body."
Blake Harrison, who portrays Neil Sutherland, said he also felt embarrassed during the film, recounting a moment when he had to meet the actress playing a woman Neil flirts with.
"I had a really awkward moment when Neil has some flirtations with older women. There's one moment when he puts his head between a mature lady's breasts," Harrison said.
"And it's awkward to meet someone for the very first time and 2 minutes later, before motorboating in there."