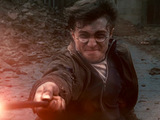 Harry Potter and the Deathly Hallows: Part 2 has held off competition from Super 8 to top the UK box office.
Daniel Radcliffe, Emma Watson and Rupert Grint's final Harry Potter outing pulls in £2.8 million to beat the opening haul for JJ Abrams and Steven Spielberg's sci-fi drama.
Deathly Hallows: Part 2 has now grossed more than £62 million at the box office, making it the most successful UK release of 2011.
Jim Carrey's family comedy Mr Popper's Penguins is a new entry at number three, while Captain America and Cars 2 complete the top five.
Elsewhere, Bridesmaids continues to show strong staying power as it charts at number eight. The Kristen Wiig comedy has grossed more than £21 million since its release six weeks ago.
The UK box office top ten in full:
1. (1) Harry Potter and the Deathly Hallows: Part 2 – £2,810,088
2. (-) Super 8 – £2,207,063
3. (-) Mr Popper's Penguins – £1,515,248
4. (2) Captain America: The First Avenger – £1,470,703
5. (3) Cars 2 – £1,246,055
6. (4) Horrible Bosses – £1,127,654
7. (5) Horrid Henry: The Movie – £833.262
8. (7) Bridesmaids – £539,252
9. (6) Zookeeper – £474,907
10. (9) The Guard – £202,758