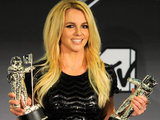 Britney Spears has revealed that the fourth single from her Femme Fatale album will be 'Criminal'.
The singer confirmed the release to MTV during the VMAs last night, and said that she has a "really cool concept" for the track's video.
When asked what her next single release will be, she replied: "I don't know if I'm at liberty to tell. But I will anyways – it's 'Criminal'.
"Actually the song, when I first heard it, [I thought] 'It's really different and [there's] not anything I've heard like this before'. So I really wanted to deliver this song.
"I was thinking of a really cool concept for the video just to make it interesting. You'll have to see."