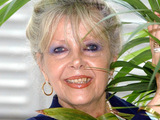 Horror icon Ingrid Pitt has died at the age of 73, reports the BBC.
The actress, who shot to fame starring in early-'70s Hammer films The Vampire Lovers and Countess Dracula, passed away at a South London hospital days after collapsing. Doctors reportedly told her she was suffering from heart failure.
Marcus Hearn, the official historian for Hammer, called Pitt a "talented actress and fine writer".
"She was partly responsible for ushering in a bold and brazen era of sexually explicitly horror films in the 1970s, but that should not denigrate her abilities as an actress," he said, adding: "All fans of Hammer and of British horror are going to miss her terribly."
Pitt, known as the queen of Hammer Horror, was born in Poland in 1937 and survived imprisonment in a concentration camp with her family. After her first marriage to an American soldier ended, Pitt returned to Europe and scored roles in Doctor Zhivago and Where Eagles Dare opposite Clint Eastwood and Richard Burton.
Among her other movie credits were The Wicker Man, Who Dares Wins and Wild Geese II.
She also penned several books, including novels Cuckoo Run and The Perons, and her autobiography Life's A Scream.
Pitt is survived by her husband Tony Rudlin and daughter Steffanie.