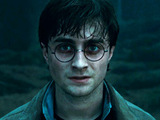 Harry Potter And The Deathly Hallows: Part 1 has shattered multiple box office records on its debut weekend in the UK.
The fantasy film, starring Daniel Radcliffe, Emma Watson and Rupert Grint, scored the biggest three-day opening with £18.3 million in ticket sales. The total smashes the record held by Bond outing Quantum Of Solace, which took in £15.3 million in 2008.
Deathly Hallows also passes UK box office landmarks for biggest single day gross and biggest Friday, Saturday and Sunday totals. Harry Potter And The Goblet Of Fire was the previous single-day record holder.
"The opening of this film has become an extraordinary worldwide event," said Josh Berger, President and Managing Director of Warner Bros Entertainment UK. "These remarkable box office numbers are a testament to the talents of the filmmakers, cast and to the vision of J.K. Rowling, the creator of this magical world. We congratulate everyone involved in the film, all of whom share in this success."
Deathly Hallows also sits atop the US and Australian charts, breaking records in both territories.
Elswhere in the UK, Alpha And Omega continues to climb the chart, moving up two places to number seven, Aishwarya Rai Bachchan's latest Bollywood movie Guzaarish lands at number seven and Saw 3D plummets out of the top ten completely.
The UK box office top ten in full:
1. (-) Harry Potter And The Deathly Hallows: Part 1 – £18,319,721
2. (1) Due Date – £1,218,115
3. (3) Despicable Me – £648,479
4. (2) Skyline – £513,338
5. (4) Jackass 3D – £349,096
6. (6) RED – £222,059
7. (9) Alpha And Omega – £192,823
8. (-) Guzaarish – £171,027
9. (7) The Social Network – £170,846
10. (10) Another Year – £161,966