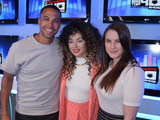 BBC Radio 1's Official Chart Show may be moving to Fridays, but commercial radio's networked chart is sticking to Sundays.
The Vodafone Big Top 40 will stay in its traditional Sunday afternoon slot, despite official chart release dates prompting a move to Fridays for Radio 1's rival programme.
Global Radio was previously reported to be considering a potential move for the Big Top 40 show, but the company has confirmed that it will not make any changes.
A spokesperson told RadioToday: "Sunday is the home of the charts. The Vodafone Big Top 40 is still the only place you can enjoy the UK's hottest hit music almost a week before any other chart and includes the official iTunes top 10, every Sunday from 4pm to 7pm."
Marvin Humes and Kat Shoob currently host The Vodafone Big Top 40, which is broadcast on 140 radio stations across the UK. It is the biggest programme on UK commercial radio, with around 2.5 million listeners each week.
The chart has no affiliation with the Official Charts Company, and is based on radio airplay and music download figures provided by iTunes.
Greg James will host the new Official Chart Show on Friday (July 10) at 4pm on BBC Radio. The DJ told Digital Spy that Friday is the "perfect" day for the chart to be broadcast.
This music news can be discussed here