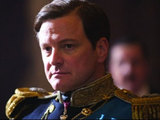 The King's Speech and Inception have dominated the 2011 Academy Awards, taking home four Oscars apiece at the Hollywood ceremony.
The British-produced royal drama, about King George VI's attempts to overcome a crippling stammer with the aid of speech therapist Lionel Logue, took home 'Best Picture', 'Best Actor' for star Colin Firth, 'Best Director' for Tom Hooper and 'Best Original Screenplay' for David Seidler.
Christopher Nolan's mind-bending science fiction thriller Inception ruled in the technical categories, scooping awards for 'Cinematography', 'Sound Editing', 'Sound Mixing' and 'Visual Effects'.
The Social Network emerged with three Oscars ('Adapted Screenplay', 'Editing', 'Original Score'), while True Grit, which notched up ten nominations, walked away empty-handed.