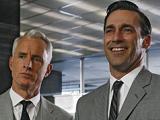 Mad Men creator Matthew Weiner has revealed that he would like to set an end date for the series.
Earlier this year, Weiner reportedly suggested that he wants the show to finish in 2012.
However, the programme's network AMC later played down the speculation.
Weiner has now told Fancast that he still wants to know when the series will end.
"Yes [I do]," he said. "And I don't know what it is yet. We're all enjoying [doing the show]. So I don't know what [the end date] is yet."
Mad Men continues on Sundays at 10/9c on AMC. The fourth season will premiere in the UK on September 8 at 10pm on BBC Four.