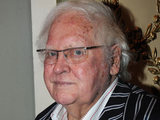 Ken Russell, the British film director, has died at the age of 84.
The director, whose work includes Women in Love, The Devils and Tommy, died peacefully in his sleep in hospital yesterday afternoon (November 27), his son Alex confirmed.
Novelist and broadcaster Norman Lebrecht revealed the news on the Arts Journal blog.
Born in Southampton in 1927, Russell served in both the Royal Air Force and Merchant Navy before moving into directing television documentaries.
He started feature film directing with his 1963 movie French Dressing before making Harry Palmer film Billion Dollar Brain with Michael Caine.
Russell's 1969 adaptation of DH Lawrence's Women in Love earned him an Oscar nomination for 'Best Director' and won its star Glenda Jackson a 'Best Actress' Academy Award.
His 1971 historical drama The Devils, starring Oliver Reed and Vanessa Redgrave, sparked huge controversy for its violent, sexual and religious content and found itself banned in several countries.
The BFI is due to release The Devils on DVD on March 19, 2012 in its original UK 'X' certificate form.
Among Russell's other directing credits include Lisztomania, Altered States and Whore. His last directing job was in 2006 when he oversaw the 'Girl with Golden Breasts' segment of horror Trapped Ashes.
Russell is survived by his wife Lisi Tribble and five children from his first marriage to Shirley Russell.