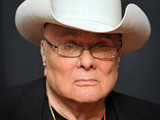 Tony Curtis has died at the age of 85.
A representative for his daughter Jamie Lee Curtis confirmed the news of her father's death to ET today.
Born Bernard Schwartz on June 3, 1925, Curtis was best known for his roles in 1959 comedy Some Like It Hot and the following year's Spartacus.
He was hospitalised in July after suffering an asthma attack but reportedly went home after a few days.
Curtis is survived by his sixth wife, Jill Vandenberg Curtis, whom he married in 1998. He was married to fellow screen star Janet Leigh for 11 years from 1951 to 1962.