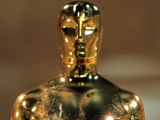 The Oscar nominations have increased the rate of illegal downloads ahead of the ceremony on Sunday.
A survey for Variety found that illegal daily downloads for True Grit went up by 34 per cent in the week after the nominations announcements.
Inception is the most downloaded film since its release in the US in July, racking up 17 million downloads.
Speaking to the site, president of tech operations at Warner Bros. Darcy Antonellis said: "We often see spikes in demand on two fronts, via legal channels and illegal channels, with increases in marketing activity.
"Coincident with Oscar announcements and nominations, we typically see the same types of spikes."
Some of the leaks were blamed on screeners sent out following the nominations.