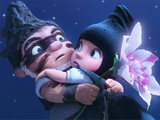 Touchstone Pictures' family animation Gnomeo & Juliet managed to win out over a new comedy from Owen Wilson this weekend to top the US box office.
Gnomeo & Juliet took $14.2 million for its third weekend of release, just edging out Wilson's latest comedy Hall Pass, which took $13.4 million.
Last week's box office topper Unknown fell to third place, taking $12.4 million, followed by the Adam Sandler comedy Just Go With It, taking $11.1 million.
Rounding out the top five films is the teen sci-fi I Am Number Four, which took $11 million in its second week of release.
Nicolas Cage's latest offering Drive Angry 3D took only $5.1 million, notable for being the lowest-ever opening for a 3D film on wide release.
Next weekend sees the release of Rango, which marks the reunion of Johnny Depp and director Gore Verbinski, as well as Matt Damon's science fiction thriller The Adjustment Bureau, and the oft-delayed teen drama Beastly.

This week's US box office top ten in full:
1. (3) Gnomeo & Juliet – $14,200,000
2. (-) Hall Pass – $13,400,000
3. (1) Unknown – $12,400,000
4. (4) Just Go With It – $11,100,000
5. (2) I Am Number Four – $11,000,000
6. (6) Justin Bieber: Never Say Never – $9,200,000
7. (7) The King's Speech – $7,610,000
8. (5) Big Mommas House 3 – $7,550,000
9. (-) Drive Angry 3D – $5,100,000
10. (8) The Roommate – $2,000,000