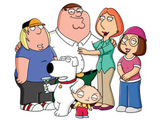 The upcoming hurricane-themed crossover event between Family Guy, American Dad, and The Cleveland Show has been postponed in light of recent events in the US.
Fox had been scheduled to air the so-called 'Animation Domination' crossover this Sunday, but the company has released a statement postponing the event out of respect for the 300 people who died this week in the tornado outbreak in the Southern Midwest.
"In light of the recent storms that have affected the nation, Fox has decided to postpone the crossover episodes that were originally scheduled to air this Sunday," the statement reads.
The network will air repeats of the shows in place of the event, and will show the hurricane crossover in Spring 2012.