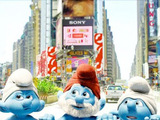 Family adventure The Smurfs and sci-fi western Cowboys & Aliens are currently tied at the top of the US box office.
In a surprising turn of events, both new entries are currently estimated to have brought in a domestic total of $36.2m, although The Smurfs is expected to win the weekend due to the traditional Sunday family audiences.
Last week's box-office topper Captain America: The First Avenger falls to third place with $24.9m, followed by the record-breaking Harry Potter and the Deathly Hallows: Part 2 with $21.9m.
Rounding out the top five films is Steve Carell's latest comedy Crazy, Stupid, Love, which opened to $19.3m for its first weekend of release.
This week's US box office top ten in full (studio estimates):
1 = (-) Cowboys & Aliens – $36,200,000
1 = (-) The Smurfs – $36,200,000
3. (1) Captain America: The First Avenger – $24,900,000
4. (2) Harry Potter and the Deathly Hallows: Part 2 – $21,900,000
5. (-) Crazy, Stupid, Love – $19,300,000
6. (3) Friends with Benefits – $9,300,000
7. (5) Horrible Bosses – $7,100,000
8. (4) Transformers: Dark of the Moon – $5,970,000
9. (6) Zookeeper – $4,200,000
10. (7) Cars 2 – $2,300,000