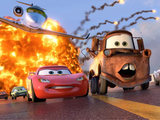 Disney Pixar's Cars 2 has topped the US box office in its opening weekend.
The company's first sequel not related to their Toy Story franchise took $68 million, despite the relatively poor critical reception endured by the family film so far.
The Cameron Diaz and Justin Timberlake comedy Bad Teacher opened with a respectable $31 million in second place, followed by last weekend's superhero box-office topper Green Lantern with $18.3 million.
JJ Abrams's monster epic Super 8 follows in fourth place with $12.1 million, followed by Jim Carrey's family comedy Mr. Popper's Penguins, which rounds out the top five with $10.3 million.
This week's US box office top ten in full (studio estimates):
1. (-) Cars 2 – $68,000,000
2. (-) Bad Teacher – $31,000,000
3. (1) Green Lantern – $18,350,000
4. (2) Super 8 – $12,100,000
5. (3) Mr. Popper's Penguins – $10,300,000
6. (4) X-Men: First Class – $6,600,000
7. (5) The Hangover Part II – $5,865,000
8. (7) Bridesmaids – $5,372,000
9. (8) Pirates of the Caribbean: On Stranger Tides – $4,700,000
10. (9) Midnight in Paris – $4,480,000