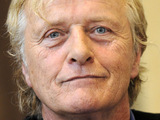 Rutger Hauer has signed to star in forthcoming horror film Dracula 3D.
According to Twitch, Hauer will play vampire killer Van Helsing in the movie.
Italian filmmaker Dario Argento is directing the project, which he previously said would be "a faithful translation of the Bram Stoker novel".
Hauer will next be seen in Hobo With A Shotgun, opening later this year.