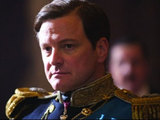 The King's Speech and Inception have dominated the 2011 Academy Awards, taking home four Oscars apiece at the Hollywood ceremony.
The British-produced royal drama, about King George VI's attempts to overcome a crippling stammer with the aid of speech therapist Lionel Logue, took home 'Best Picture', 'Best Actor' for star Colin Firth, 'Best Director' for Tom Hooper and 'Best Original Screenplay' for David Seidler.
Christopher Nolan's mind-bending science fiction thriller Inception ruled in the technical categories, scooping awards for 'Cinematography', 'Sound Editing', 'Sound Mixing' and 'Visual Effects'.
The Social Network emerged with three Oscars ('Adapted Screenplay', 'Editing', 'Original Score'), while True Grit, which notched up ten nominations, walked away empty-handed.
Firth, who was nominated last year for A Single Man, accepted his prize from Sandra Bullock and threatened to burst into dance on stage.
"I have a feeling my career's just peaked," the 50-year-old said.
Firth thanked director Hooper, his co-stars Helena Bonham Carter and Geoffrey Rush, producer Harvey Weinstein and his wife Livia Giuggioli, before closing his speech by saying: "If you'll excuse me I have some impulses I have to attend to backstage."
Hooper, who held off David Fincher and Darren Aronofsky to win 'Best Director', described the award as "an extraordinary honour".
"Thank you to my wonderful actors – the triangle of man love, which is Geoffrey Rush, Colin Firth and me. I'm only here because of you guys," he said. "Helena, I hope that reference doesn't make you jealous."
A tearful Natalie Portman accepted her 'Best Actress' Academy Award for Black Swan from Jeff Bridges, saying: "I truly wish that the prize tonight was to get to work with my fellow nominees, I'm so in awe of you."
In the supporting acting categories, boxing drama The Fighter took both awards as Melissa Leo and Christian Bale followed up on their Golden Globe wins.
Leo gave an emotional acceptance, stating that Kate Winslet's speech two ears ago for The Reader made it look "so f**king easy… oops!". Bale, meanwhile, joked that he wouldn't swear because "he had done it enough in the past" – a reference to his infamous on-set rant on Terminator Salvation.
Elsewhere, Toy Story 3 netted a sixth 'Best Animated Feature' Oscar for Pixar. The sequel's Randy Newman composition 'We Belong Together' also won for 'Original Song'.