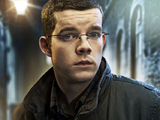 Being Human star Russell Tovey has admitted he is pleased that the show is being remade for the US by SyFy.
The actor – who plays werewolf George – explained to io9 that a new version of the supernatural drama would benefit the original series.
"We're very proud Syfy is doing it," he explained. "It builds up the brand of Being Human."
He added: "People do know we exist, but hopefully more people will know [now], because they're making comparisons in everything I've read about it. They've [always] said the English version is there and the Americans are doing a version of [it]."
Tovey also had some advice for the cast of the US version, which includes former Smallville star Sam Witwer.
"Don't try and copy what we're doing," he said. "Find your own path."
The US Being Human is scheduled to air in 2011. A third series of the original show is currently filming in Cardiff.
The official press release for the US version can be found here: