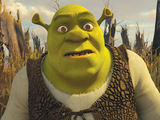 Shrek Forever After has remained at the top of the US box office for a second week.
The animated feature has beaten Sex And The City 2 during the Memorial Day weekend with $43 million, while Sarah Jessica Parker's highly-anticipated sequel pulled in $32 million.
The $200 million-budgeted Prince Of Persia: The Sands Of Time, starring Jake Gyllenhaal, debuts at number three with a mere $30 million.
Iron Man 2 slips to fourth place with $16 million, followed by Robin Hood at number five with $10.3 million and Letters To Juliet in sixth place with $5.9 million.
Finally, How To Train Your Dragon decends to number ten with $1 million.
The US box office top ten in full:
1. (1) Shrek Forever After – $43,345,000
2. (-) Sex And The City 2 – $32,125,000
3. (-) Prince Of Persia: The Sands Of Time – $30,170,000
4. (2) Iron Man 2 – $16,035,000
5. (3) Robin Hood – $10,305,000
6. (4) Letters To Juliet – $5,900,000
7. (5) Just Wright – $2,200,000
8. (7) Date Night – $1,750,000
9. (6) MacGruber – $1,477,000
10. (9) How To Train Your Dragon – $1,025,000