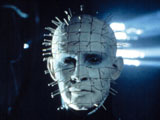 Writer and director team Todd Farmer and Patrick Lussier have claimed that their reboot of the Hellraiser film series will explore new facets of the Clive Barker novella, rather than simply remaking the original films.
Lussier and Farmer, best known for the 2009 horror My Bloody Valentine, are currently working on a script for Dimension Films.
"We're keeping it within the world of the box," Lussier explained to Shock Till You Drop. "What the box is and what the box does."
"Clive's film is very personal," Farmer added. "That's a difficult story for us to come in and retell."
The pair claimed that they didn't simply want to rewrite the story of the original Hellraiser, and see their version of the film as very different.
"What we went in to pitch with at Dimension was to come at it from a different angle, but go into the same world and see things you haven't been able to see in the other movies," Lussier revealed. "There have been so many films, how can we make this one different?"
The original Hellraiser film has inspired eight sequels since its release in 1987.